About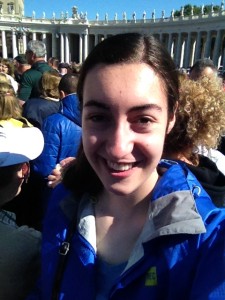 Hi! My name is Jenny Sullivan and I'd like to thank you for taking the time to visit my website!
Although as a writer, I like to experiment with many different genres and forms, I would define myself first as a novelist. To this date, I have completed four full-length novels. Information about my second and third novels can be found here.
I have always loved telling stories and creating characters that become vivid enough in my mind to take on a life of their own. In the last couple years, I have begun to write short stories more frequently; I love that this form allows me to try new things and take stylistic risks I wouldn't necessarily take when committing to a novel. It also enables me to employ ambiguity and uncertainty in a way that does not suit the lengthy novelistic form. Last year, I undertook a project to write a series of short stories, each focusing on a different Shakespeare character. This series, called "Buried Voices," adapts stories from five Shakespeare plays, including Hamlet, Romeo and Juliet and Macbeth, and presents lesser-known characters in a new light. You can read some of these stories, and more pieces of fiction here.
What else can you find on jensul.com? Aside from regular posts to my blog on a variety of subjects, I also write reviews of books and movies. I write poetry as well (you can read selections here) and you can receive updates on this and other posts by following me on Twitter @jensul16 and by subscribing to my newsletter (at the top right side, or at the bottom of the page on a mobile device).
Who are some of my biggest artistic influences? As an avid reader of classic novels, I have been influenced deeply by authors such as Woolf, Fitzgerald, Ford, Tolstoy, Wharton, Bronte, Austen, Dickens, Eliot and Faulkner! My Catholic faith informs my writing in a profound way, and I have been greatly impacted by the work of St. Thomas Aquinas, Josef Pieper and Pope St. John Paul II, especially his Theology of the Body.
What is my vision of art? I believe very strongly in the intrinsic value of art. As a writer, I am interested in looking for beauty in the ordinary moments and in things that are seemingly broken or insignificant. I think true art is in the service of beauty, and rather than attempting to propagate a particular agenda and merely "tell" through my art, I strive to express my ideas and beliefs by reflecting glimpses of new and often unexpected beauty.
You will see this focus on beauty manifested in much of my work. I think art is of integral importance to our society and that there is an intimate relationship between art, beauty and faith. For more on this, please read John Paul II's illuminating and profoundly moving letter to artists.
I hope that from reading this page you've learned a bit more about me and what to expect at jensul.ca! If you have any questions or comments, you can email me at [email protected]!