What to Listen to this Week: The National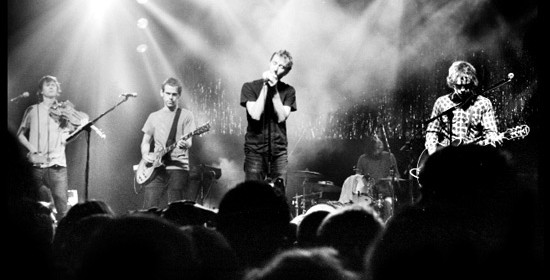 One of my favourite bands is the indie rock group, The National. This week (as well as most weeks) I'll be listening to them, and I think their music is of the kind that you can keep listening and continually discovering new depth and richness to it. Their songs are polished and perfectly sculpted, and what stands out above all is the uniquely deep voice of lead singer, Matt Berninger (you'll know what I mean if you listen).
Something I really like about The National is not just the excellent quality of the singing or of the actual music, but the quality of the lyrics. These are not easily penetrable lyrics, ones that have literal meaning exposed on their sleeves. Some of their unique compositions include lines like "It's a terrible love that I'm walking with spiders," and "I should live in salt for leaving you behind." After listening to these songs (and more like them) many, many times, I still couldn't tell you exactly what they mean. However, the point is not that the lyrics are difficult for the sake of being difficult; it's that they are not simply trying to tell you what to think.
We don't have to understand everything about what a song (or a book or a movie) is saying. In my opinion, that is not what art is about. Art- good art- operates through beauty, and I think these lyrics are raw, beautiful and real, exploring profound truths without propagandizing or shouting their literal meaning. With that in mind, check out Graceless, one of my favourite songs by the National.
On a related note, I would also highly recommend a documentary film about The National, called Mistaken for Strangers. This film was made by Tom Berninger, brother of the lead singer of the band. It is fascinating to see the band performing great music and to spend time behind the scenes, on tour after their breakthrough album, High Violet. However, more than that, this film is about the relationship between brothers, about family, and about finding yourself and your own unique place. It is clever and very funny, as well as being poignant and moving. Watch the trailer here.